Why exhibit at
SANA 2024
If you are looking to the future in a conscious way and addressing a community that puts health and wellness assurance at the forefront, looking increasingly at social responsibility and sustainability, SANA is the right place to tell the story.
EXHIBITORS OPPORTUNITIES
You will present your organic and natural products to the Italian market of GdO, HoReCa, herbalists, pharmacies, parapharmacies, looking for the latest solutions to meet the changing needs of consumers
You will meet quality foreign buyers from more than 40 countries
You will increase brand awareness at Italy's leading organic and natural fair
You will search for new distributors and meet key digital market players
You will receive visibility for 365 days a year for your novelty product, beyond the preview reserved for international buyers
You will also expand your brand awareness through SANA's digital platforms, with endless opportunities for visibility including the website, newsletters and social media.
You'll get a preview of market and industry trend news
You'll meet bloggers and influencers to engage in your upcoming communication campaigns
You will present your products in cooking show areas dedicated to the breakfast and appetizer worlds
You will make your cosmetic products protagonists in the Care & Beauty exhibition and talk areas
You will become an active part of the future of the organic and natural world
VISIBILITY
Present your novelty products, food, cosmetics and lifestyle offerings to domestic and international buyers and operators
GROWTH
Meet the right partners and potential clients in a specialized, professional and dynamic environment
OPPORTUNITIES
Establish fruitful international relationships and become a key player in strengthening and innovating the organic sector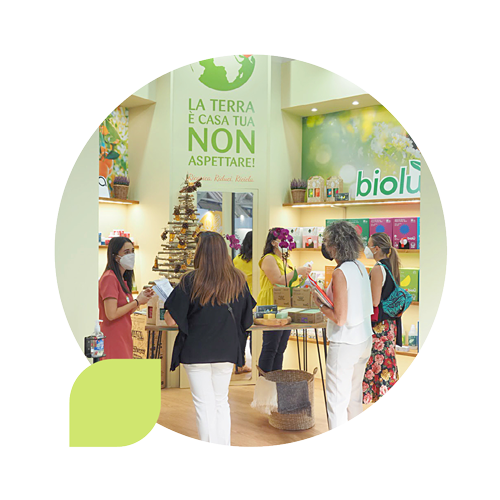 BE PART OF SANA 2024
Become an exhibitor
Download useful documentation for your participation and take advantage of the opportunities that SANA reserves for its exhibitors.
SPACE FOR INNOVATION
SANA Novità

The SANA NOVITA' showcase returns online and on-site at Service Centre.
Invited buyers will preview Novelty products and can get in touch with your company in the months leading up to the show; at the end of August, Novelty products will be viewable on the What's New Guide on the SANA website.
Awards for the best products presented will be given by the votes reserved for international buyers and visitors, who will be able to assign their preference during the event.